Welcome to the 2014-2015 school year.....
There will be no bus pass fees this year!
However, families with a student(s) riding the bus will need to send in the Bus Transportation Application to the appropriate school site.


Please click the route link for a listing of all bus routes.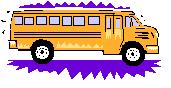 2014-2015 Routes
If you have trouble locating your child after school please call the school office. Deer Creek 265-1870 or Seven Hills 265-1840.
If no one is available at the school site, please call the District Office at 530-265-1821 or 1827.